Howard english speaking & learn computer haldwani - Haldwani
Saturday, 8 April 2017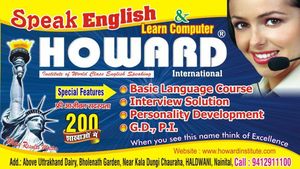 Item details
City:
Haldwani, Uttaranchal
Contacts

mr imran

9412911100
Item description
when it comes to learn excellent English you can always count on "HOWARD INSTITUTE".
it was started in 2001 by Dr. Veer Singh Rohal (Chairman), Mr Manovrat Rohal (Managing Director)with full dedication & devotion having a dream to take HOWARD as an INDIA'S no.1 institute.
presently HOWARD has 200+ branches spread across the country.
Now the INDIA'S leading institute is open in your city HALDWANI.where you can register yourself and turn your dreams into reality.
according to HOWARD-"THE DISTANCE BETWEEN THE SUCCESS AND THE FAILURE CAN ONLY BE MEASURED BY ONE'S DESIRE."